from QC to gene prediction and phylogenomics
Based on evolutionarily-informed expectations of gene content of near-universal single-copy orthologs, BUSCO metric is complementary to technical metrics like N50.
BUSCO has been selected as one of the SIB Remarkable Outputs of 2021!
For more info and to discover the other Remarkable Outputs see here.
Availability
Git source code
Docker container
Conda package
New in v4/v5
Bacteria & archaea revised
Auto-lineage selection
Faster assessments of euk genomes
vs CheckM
Scores eukaryotes and prokaryotes
Can run on a laptop
Better resolution, less overestimates
Cite us
The novelties introduced in BUSCO v4 and v5 and the new BUSCO datasets (*_odb10) are described here. If you've used these versions or datasets the correct citation would be:

Mosè Manni, Matthew R Berkeley, Mathieu Seppey, Felipe A Simão, Evgeny M Zdobnov, BUSCO Update: Novel and Streamlined Workflows along with Broader and Deeper Phylogenetic Coverage for Scoring of Eukaryotic, Prokaryotic, and Viral Genomes. Molecular Biology and Evolution, Volume 38, Issue 10, October 2021, Pages 4647–4654
The following protocol covers the various BUSCO running modes and workflows, BUSCO setup, guidelines to interpret the results, and additional analyses, e.g., for building phylogenomic trees and visualizing syntenies using BUSCO results:

Manni, M., Berkeley, M. R., Seppey, M., & Zdobnov, E. M. (2021). BUSCO: Assessing genomic data quality and beyond. Current Protocols, 1, e323. doi: 10.1002/cpz1.323
more & stats >>
License
The BUSCO software is licensed under the MIT License.
The BUSCO datasets are licensed under the Creative Commons Attribution-NoDerivatives 4.0 International License. To view a copy of this license, visit http://creativecommons.org/licenses/by-nd/4.0/ or send a letter to Creative Commons, PO Box 1866, Mountain View, CA 94042, USA.
Any use of these datasets for analyses in a publication or product must include the citation of the corresponding paper: https://doi.org/10.1093/molbev/msab199.
Obtain BUSCO
Full installation instructions are provided in the user guide and protocols.
BUSCO is available as a conda package and as a Docker image. Both of these versions are ready to run out of the box. Alternatively, it is also possible to manually install BUSCO.
The BUSCO software now directly downloads the necessary datasets, specified by the user or automatically selected.
To display all available datasets
You can also download them manually and see a list with the number of marker genes.
Earlier versions: v4, v3, v2, v1
Documentation and support
User guide
Issues board
"Core" genes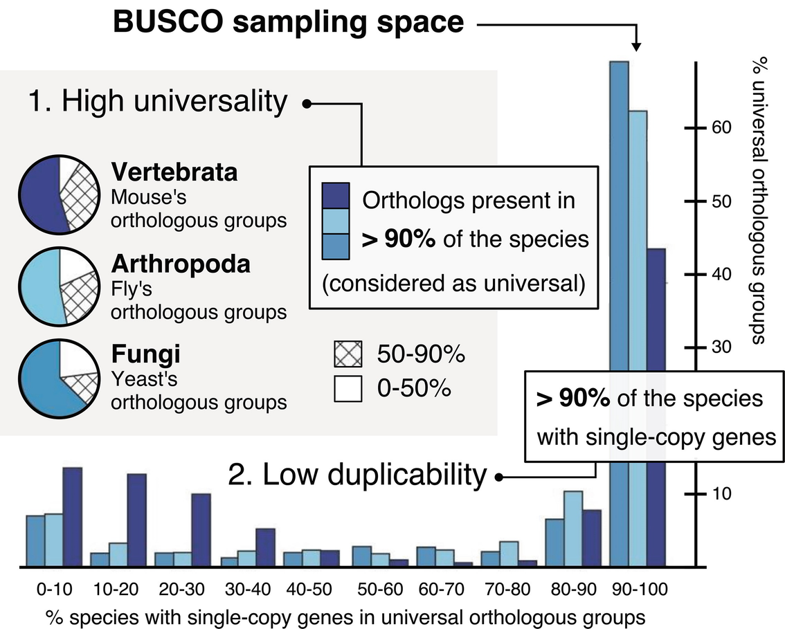 adapted from